HIDDEN FIXINGS

LOW MAINTENANCE

UV STABLE

FAST EASY INSTALL
INFORMATION ABOUT Composite Slatted Cladding Golden Oak Sample - Series 1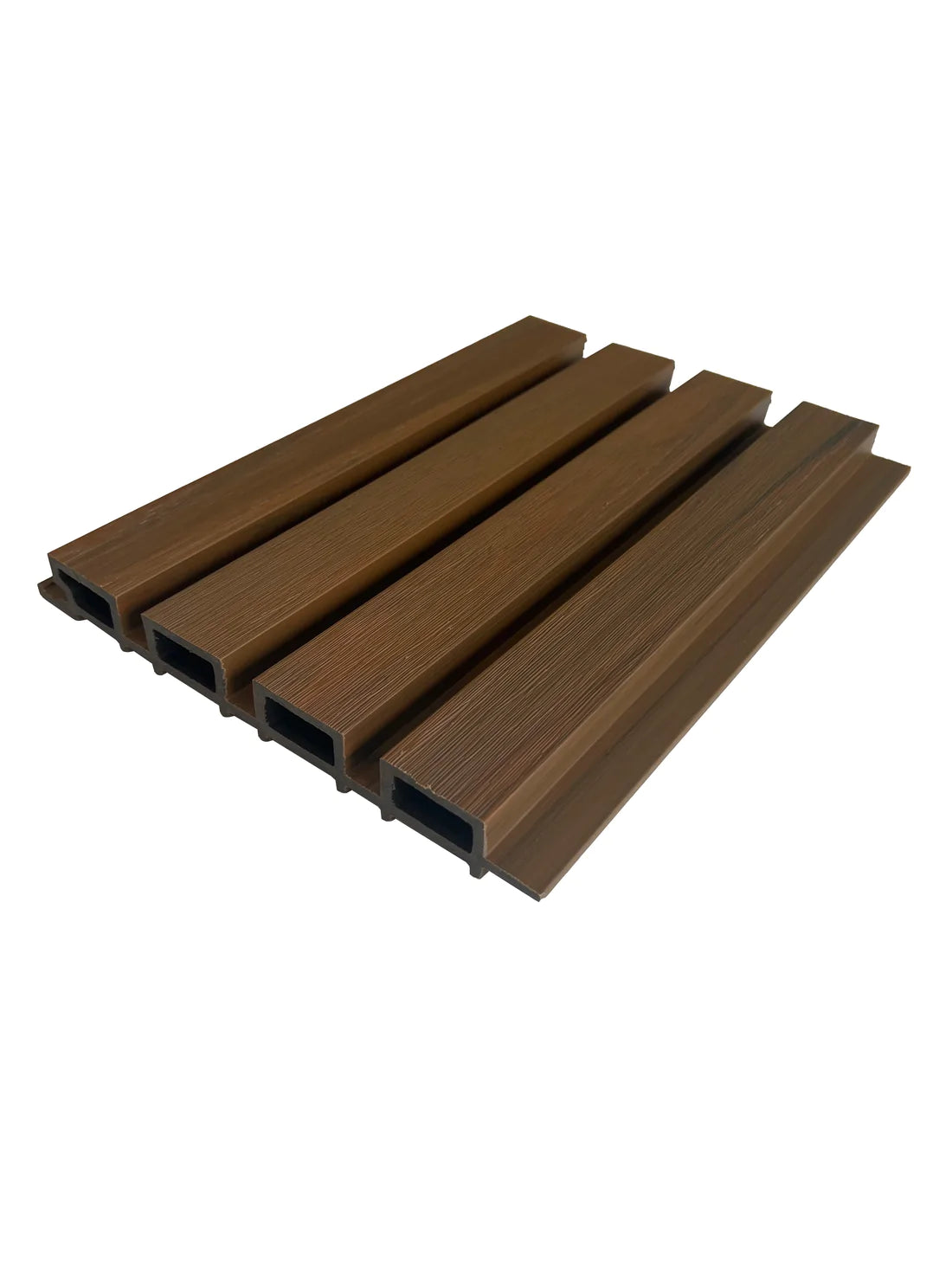 FULL PRODUCT DESCRIPTION

Board size: 3.6metres x 219(mm) x 26(mm)
Matching L trims also available
Full range of compatible accessories
Looks great in Bathrooms, Offices, Exterior Walls & Gardens
High Quality Finish
10 Year Warranty
Our Slatted cladding boards are finished to the highest quality on the market – the Slatted Cladding Board offers a little more than standard cladding we have for sale. This is the latest composite cladding product we have to offer – it's strong, water-resistant & looks fantastic. Slatted is a truly unique look & modernises any space that it is installed in.

For further information or advice, call our sales team on 0161 696 0078.

Length of Board: 3.6 metres
Width of Board: 219mm
Thickness of Board: 26mm
Approximate Board weight: 10.5kg
DELIVERY POLICY

Delivery will be made to the address specified when you complete the order.

Please note we only deliver to addresses within England, Scotland, Wales and Northern Ireland. Certain areas will incur a seperately charged surcharge.

We use a variety of delivery methods, depending on the size of the item you order and the speed with which you wish to receive it. Some items are delivered directly by the supplier and the supplier will contact you to arrange delivery.

We aim to deliver the majority of your larger sized items that we have to you within 14 working days for most UK postcodes. On certain items there is a longer lead time which is up to 30 days unless other time period specified. For orders that are delivered direct to you by our suppliers, after placing your order they will contact you to arrange a delivery date that is convenient to you.

A signature may sometimes be required at delivery. By placing an order you are authorising us to accept a signature from an adult at the delivery address or neighboring property on your behalf should you not be available at the time of delivery.

For some products that do not require a signature at delivery you may be able to give instructions explaining if and where you would like the product to be left if no one is present at the time of delivery, such as with a neighbour.

Ownership of a product will not pass to you until we have delivered the product to you (either directly, or by leaving it in a safe place or with a neighbour or where you have signed for it when using the In Store Collection option). This is when the contract between you and us will be deemed to have concluded. Once a product is delivered, responsibility for risk of damage to or loss of the product passes to you.

We also use third party delivery companies which may, at their discretion, leave a product in a safe place if no one is present at the time of delivery. In these circumstances the delivery company will put a card through your letter box explaining where the product has been left.

By Signing for items delivered by a courier you are confirming receipt of the items in good condition and as such will be unable to claim for any damages. If you are unable to check your items before signing ensure you sign for the goods stating 'Unchecked'.

All Shortages or Damages must be reported to us within 3 days of delivery.

We strongly advise you not to book a fitter until you have received all your items and had the opportunity to check for shortages and damages.

Subject to the other provisions of these conditions we shall not be liable for any direct, indirect or consequential loss (all three of which terms include, without limitation, pure economic loss, loss of profits, loss of business, depletion of goodwill and similar loss), costs, damages, charges or expenses caused directly or indirectly by any delay in the delivery of the Products.

We shall have no further liability under the Contract if, for any reason, you fail to accept delivery of any of the Products when they are ready for delivery, or we are unable to deliver your order on time due to health and safety risks.


RETURNS POLICY

We want you to love the products you buy from tudagrass.co.uk but if, for whatever reason, you change your mind, please return your purchase to us in its original condition (and packaging, where possible) within 30 days of purchase for a full refund.

All returns must be sent (with a copy of your order confirmation or sales invoice) to the address below in its original or secure packaging in order to avoid any damage in transit. Your refund may be affected if the product is returned to us in an unsuitable condition.

TUDAGRASS.CO.UK

T&A Upholstery Supplies Ltd
Units 46/47 Stakehill Industrial Estate
Touchet Hall Road
Middleton
M24 2FL

Unfortunately, we are unable to offer refunds or to exchange any products that have been cut to size, made to measure or installed (unless it is established that they have since developed a manufacturer's fault).

FAULTY PRODUCTS

In the unlikely event that a manufacturer's fault develops within 30 days of the purchase date, please notify us as soon as possible with photographic evidence. Where a manufacturer's fault is identified, you will be able to receive a full refund, repair or replacement of the original order, whichever is more convenient.

Where a manufacturer's fault develops after 30 days from the purchase date, we will do our best to remedy the problem as soon as possible. Depending on the circumstances, you may be entitled to a replacement, repair or refund (or a price reduction should you wish to keep the product).

We reserve the right to withhold any remedy, refund, repair or replacement until the faulty product(s) is/are returned to us for investigation. The cost of the return is to be borne by the customer but reimbursed by us in the event that a manufacturer's fault is established.

If the products are installed and you are not able to remove and return them, please contact us to arrange an alternative solution. In some instances, we can arrange a courier pick-up service (subject to a maximum charge of £50.00).

Please note that our liability under this policy:

excludes any discrepancies between batches (colour or otherwise) or faults caused as a result of improper installation, use or maintenance;

is limited to the original order value; and

does not include any additional or third party costs incurred by you for the installation of our products (or otherwise) prior to the fault appearing.

We always advise our customers to carefully inspect any purchases (and report any faults immediately) prior to any installation.

SUBSTITUTE PRODUCTS

If a product is ever unavailable, we will contact you either to arrange a full refund or allow you the opportunity to select a similar product with any difference in price being collected or returned. Rest assured, we will never supply you with any substitute products without your prior approval.

COLOURS

Every effort is made to ensure that the colours of our products are presented as accurately as possible on our website. Due to discrepancies between monitors etc. we recommend that our customers take advantage of our free sample service prior to ordering.

Please note that different widths, batches, materials or orders may not match exactly when placed next to one another if ordered at a different time. Every batch is slightly different.
Composite Slatted Cladding Golden Oak Sample - Series 1
Ribbed cladding
Sample very good quality and very strong however forloght oak too dark
So easy to install
Very easy to fix just align and secure with screws.
Looks amazing. Would recommend to everyone..
Also a first class company to deal with.
Slatted Cladding Golden Oak Sample - Series 1
Great for outdoors
As our project being an internal office wall the samples received where not appropriate